Background on rehabilitation of the neck after neck injury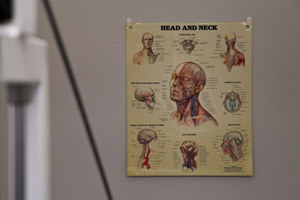 The neck is the most flexible part of the spine. It enables the head to be turned in just about every direction. But this flexibility also makes this area susceptible to injury.
There are three main types of injury that can occur in an accident: Muscle damage, nerve damage and joint damage, which can occur when the neck is overdrawn. It is unclear what damage is sustained in individuals with chronic ailments.
Every year over 5,000 whiplash injuries are reported to Norwegian insurance companies. The National association for people with neck injuries - "Landsforeningen for nakkeskadde" - believes that the number of actual injuries is much higher because many people are injured in ways other than traffic accidents. They estimate about 26,000 neck injuries in Norway every year. Out of these about 1,300 are permanently disabled and 400 are completely incapacitated and unable to work.
What is different about the treatment at Firda Physical Medicine Centre?
Almost all patients who come to Firda Physical Medicine Centre have suffered debilitating illness for many years. Most have tried both conventional and unconventional forms of treatment. About half of our patients have experienced being sent to a psychologist, psychiatrist, or neurologist. They often feel that their symptoms have been dismissed by their doctors and that they are contributing to the cost of health care inflation.
At Firda Physical Medicine Centre we emphasize that these incapacitating ailments often have a physical nature. As the ligaments and muscles of the neck are weakened, the neck can no longer support the weight of the head. The muscles are overworked and this leads to pain.
We believe that if one can pinpoint the area of debilitation or injury, it is possible to compose a training program that strengthens the muscles in close proximity to the joints in that area, and in this way compensate for the changes in the ligaments.
Firda Physical Medicine Centre is the only treatment centre in Norway that can offer diagnostics and rehabilitation of neck function after a neck injury using standardised and scientifically documented testing equipment.
We believe that it is very important that all manual treatment is given at the right time after choosing the correct technique. Over time we have witnessed the effects of overstimulation, peculiar soft tissue techniques, failed training programs, and premature manipulations on the vertebral column. These treatment and training methods can often lead to more pain than gain, when not applied correctly.
Training using the MCU, manual therapy and training programs require individual follow-up. This means that a therapist must accompany at all times within the rehabilitation centre to ensure the best possible implementation of the planned measures. Individual follow-up is preferable compared to being place within a cluster where one must focus more on a group physical therapy approach both in training and in treatment measures.
Rehabilitation at Firda Physical Medicine Centre is a recognized form of treatment
The treatment of neck injuries at Firda Physical Medicine Centre is an internationally recognized form of diagnostics and rehabilitation.
[1] og [2].
As of today, there are no other providers of documented forms of diagnostics and stabilisation treatment for injuries/altered function of the neck in Norway.
In 2004, the Ministry of Health and Care Services assigned the Directorate of Health with the task of performing an interdisciplinary survey of the providers of diagnostics and treatment for people with whiplash associated disorders. Firda Physical Medicine Centre was the only Norwegian rehabilitation centre named in this report [3, p.25-26], and we were given a positive review for our work. Furthermore, the survey raised the question of scientific documentation in regards to the effect of the treatment methods. The conclusion of the report says: "In the continued work on whiplash associated disorders, the greatest challenges will therefore be to raise the level of competence in the primary health service, improve availability of services with regards to early treatment in order to prevent chronification, and strengthen the availability of rehabilitation for the patients with chronic ailments. [3, p.32]
We see the positive reviews of Firda Physical Medicine Centre and the conclusion of the report from the Directorate of Health in context. Had they found any equivalent or better providers of treatment for this group of patients, one would expect that they would also be named in the report. This is not the case. With this, we conclude that the expert work group could not find any other rehabilitation providers with specialised competency in examining and treating this type of patients.
In September 2007, The Directorate of Health sent a letter to Firda Physical Medicine Centre, with a request in regards to a project to assess the work of Firda Physical Medicine Centre. A pilot study was performed, conducted by UniFob Helse in Bergen (now Uni Health). This pilot study exhibited the significant positive results attributed to our work, and concluded that a larger project would be useful for further development. The Directorate of Health feedback was also positive. Due to the tight budgets of the directorate, they recommended that the larger project should be financed and continued outside the Directorate of Health.
Conclusion
The information we have presented shows that Firda Physical Medicine Centre is part of the Norwegian health care system, and the report from the Directorate of Health shows that there are no equivalent providers of rehabilitation for this group of patients. The expert work group reported, "There are no national guidelines for the treatment of patients with neck injuries like there are for patients with lumbar pains." Firda Physical Medicine Center was the only provider of rehabilitation named in the report.
References
General info
Neck injuries
Information for travelers
About us
News
User survey results
Question: "How do you rate the treatment you had at Firda Physical Medicine Centre relative to any treatment you had before coming to us?